Wacol Madness
Awesome Pawsome's March Madness Race Meeting at Wacol - March 2021
March 30, 2021 - 123456
Tags: race-report qld, awesome-pawsome and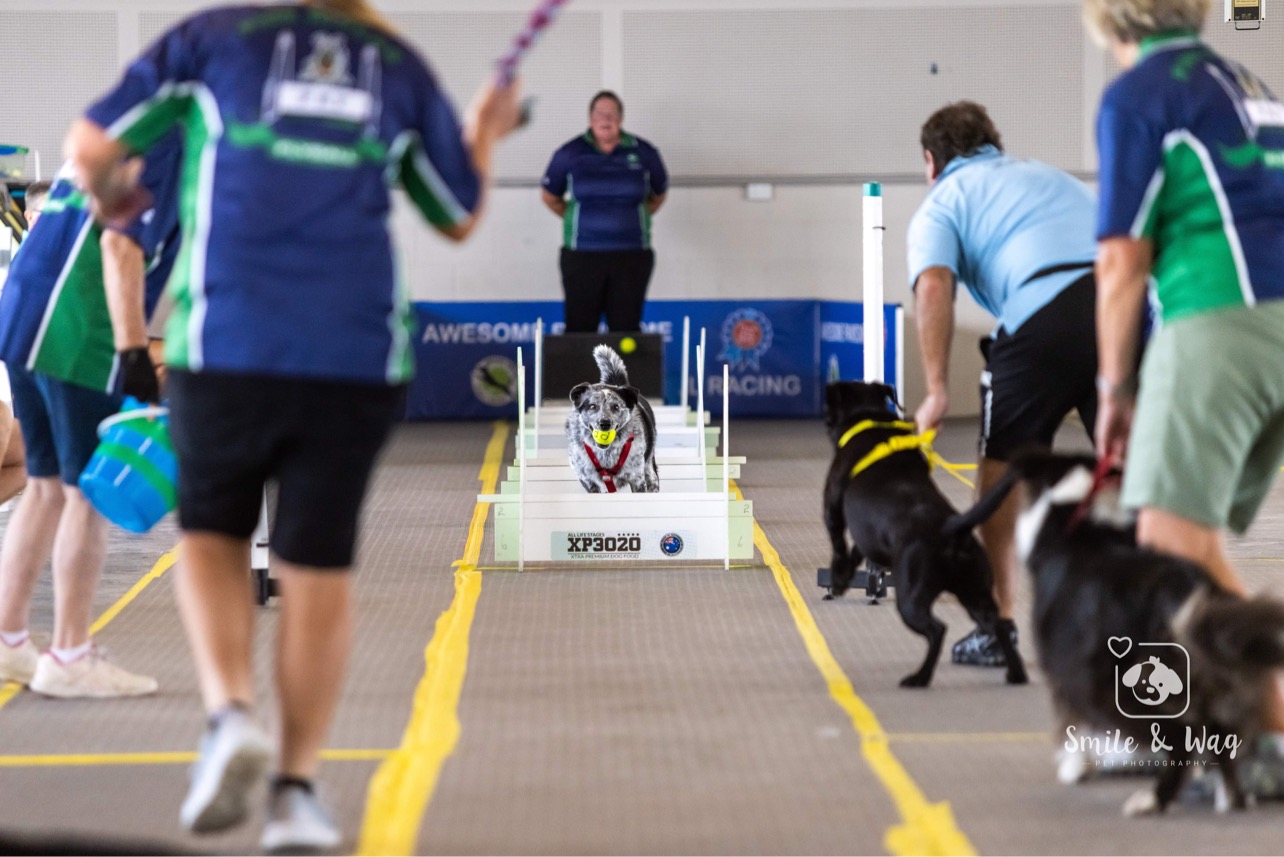 Only two weeks after the successful return at Pine Rivers, the second Queensland Race Meeting for March 2021 was held at the undercover arena and we were all excited to be back on the mats!
There had been rain in the lead-up to the day and the weather bureau had issued warnings about the amount of rain that was forecast. The day started out with typical Queensland humid and muggy conditions. An ominous sign of the weather that was to come...
The racing started and the dogs, as it turned out, were equally excited to be back on racing on the matting with some very quick times recorded. Again, team rivalries were ever-present but there was always a thanks at the end of each race from each team. Everyone gave it their all, left it all on the mats and there were many a comment heard, 'Geez that was some good, close racing'! You really could have been forgiven for forgetting that these teams only had one race meet in the previous 15 months!!!!
About six races into the day, the heavens opened! Competitors were seen madly pulling crates and belongings into the middle of gazebos as the wind blew the rain, horizontally from different directions. Many a competitor got drenched while emptying water from gazebo tops! Puddles of water quickly formed on the field and everyone made the mad dash to toilet dogs then get undercover to dry off (if that was even possible!).
We were extremely thankful to have the arena as racing was able to continue despite the rain. Towels to dry dogs and their hoomans became the day's fashion 'must have'. The sun came out for a bit, but the excitement was short-lived as the rain returned with a vengeance.
The field became absolutely sodden with more and more puddles. There was so much water on the field that shoes filled with water with every step taken. Unfortunately this meant bringing water into the arena and the ring was unavoidable so the Race Meeting was abandoned. Thankfully we had completed two round robins and were able to declare a result.
In a mirror finish of the Race Meeting a fortnight before, All Paws Airborne's Airborne Special Ops (Lincoln, Nixon, Dekota, Ruby, Scout and Kaydee) and Airborne Hornets (Millie, Honor, Basil, Benji, Sadie and Jem) took out first place in Divisions One and Two respectively with Awesome Pawsome's Paws of Thunder (Primrose, Junya, Judge, Pepe Le Pew, Poppy and Maxi) once again securing the top spot in Division Three. Full results here.
With their back-to-back wins, Airborne Special Ops, Airborne Hornets and Paws of Thunder are tied in first position on the ladder after the opening rounds of the 2021 Queensland Premiership. It's gonna be an exciting year...
Most recent articles
Articles with this tag
Tags
Ad