The Flying Times September 98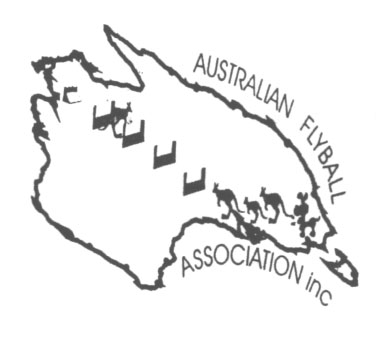 Author: Patricia Byrne
Issue No 13 Flying Times September 1998
Mon 25 Sep 2017
No. 13 - 18 September 1998
President's Report
Over the last year there were nine sanctioned
Flyball competitions held in the ACT, NSW and
Victoria. These have proven to be the catalyst for
the growth of the sport of Flyball Racing in
Australia. To all those clubs and in the case of the
Canberra Royal Karen Swan and Nerida Winters,
your contribution to the sport of Flyball Racing in
this country will prove historically invaluable.
Without the foresight shown by those who made
these competitions happen, Flyball Racing would
not enjoy the growth it has to date.
Many members would be aware of the World
Rankings on the Internet. The AFA committee has
made a policy decision that Australia's fastest time
on those World Rankings should be verified by
electronic timing and video evidence. This
requirement is only for those teams wishing to
break the record, all other times will be recorded at
sanctioned competitions with or without electronic
timing will be posted to the World Rankings. This
action was taken to give the Australian Record the
status and recognition it deserves.
During the second year of operation, membership
has increased 350% over the previous year, a
direct result of the hard work and dedication shown
by all AFA members Australia wide. In many
areas demonstrations and competitions are taken
to the public, this has attracted significant numbers
of people never before interested in organised dog
activities. The benefits to flow from this activity
will result in the promotion of responsible dog
ownership, increased membership for canine
control bodies and the enhancement of many
canine lives.
ANKC Report
The focus of the AFA to date has been to develop
the sport of Flyball Racing into a recruitment tool
for organised dog activities. For this reason the
AFA allows any dog to participate. The main
requirement of our permission to use the
internationally accepted rules developed by the
North American Flyball Association is that we allow
any dog to participate.
Newsflash Newsflash Newsflash
National Australian Flyball Championships
(NAFC)
The Australian Flyball Association will be holding
the first "National Australian Flyball Championships
(NAFC)" in 1999. That's not too far away! The
date is to be decided - but we will let you know as
soon as it is finalised.
Newsflash Newsflash Newsflash
The ANKC has decided to develop its own rules to
govern the sport of Flyball Racing whilst the AFA
has not given up all hope of some form of joint
approach to Flyball Racing with the ANKC. It has
proved very difficult to encourage some state
controlling bodies to enter into any discussion at
all, to ensure everyone in Australia participates
using the same rules and interpretation of those
rules, which I believe is necessary to allow Flyball
Racing to reach its full potential in this country.
The reason the ANKC is unable to use NAFA rules
is NAFA's insistence that any dog be allowed to
participate. To my knowledge the West Australian
Canine Association is the only Australian state that
allows any dog to participate.
I must at this point thank the Canberra Kennel
Association for their assistance and support of our
objective to encourage as many people as possible
to get their dogs out of their backyards and into the
world of organised dog activities. We also thank
the RNSWCC for publishing temporary approval
for their members to participate in AFA events.
We also thank Rodney Gooch (VIC) and John
Gaylor (SA) for taking on the position of regional
representatives. Their commitment to the
establishment of the sport in their respective states
is to be applauded and is an invaluable
contribution to the long term success of Flyball
Racing in Australia.
With the enthusiasm of all AFA members, we look
forward to the future enhancement of many more
canine lives around Australia through this amazing
sport.
At this time I would like to pass on a huge vote of
thanks to Steve Pitt, President, AFA for the drive
and initiative he has shown heading up the AFA.
Australian Flyball Association Inc.
Australian Flyball Association Inc.
'The Flying Times'
AFA Homepage: www.apex.net.au/flyball
'The Flying Times'
2
Steve really is the lifeblood of the Association and
his work often goes unrecognised and unpaid. As
members, we should all be proud to have Steve at
the helm as his best interests are really in the sport
of Flyball and its members and what Flyball can do
for dogs in our community. Thanks Steve from all
the AFA members.
I would also like to say thanks to Vicki Kennelly,
Treasurer, AFA as she has been doing most of the
paperwork and data entry of keeping the
membership up to date, creating the Steward's
Pack and the Introduction Pack, just to name a few
- and that is besides being the Treasurer. Thanks
Vicki, from all of us.
Ed.
AFA Mission Statement
To develop the sport of Flyball Racing in Australia
promoting organised dog activities and responsible
dog ownership.
AFA Annual General Meeting
The Annual General Meeting of the Australian
Flyball Association was held on Friday 28 August
1998 at the Kangaroos Rugby League Football
Club, Queanbeyan.
It was great to see so many people there,
especially from interstate. Thanks to all those who
made the long trip to Canberra, especially from
Melbourne, to be at the AGM. We would also like
to thank John Allen, CKA for his kind words to us.
He expressed that he will continue to support the
Australian Flyball Association and will be pushing
at the next ANKC meeting to have the AFA titles
recognised by the ANKC. John believes that
Flyball deserves recognition as it is truly a sport for
the dogs! We thank John for his support.
Following the AGM there was a bit of a party with a
fantastic band by the name of "Miriad" (contactable
on 02 6299 7475 for those who are looking for
some great entertainment) and lucky door prizes.
There were some great two-steppers there!
Thanks are given to Dale Power who kindly
donated $20 to the AFA on that night.
There were a couple of issues that were on the
agenda under General Business and following is
the outcomes:
Sale of Merchandise
After discussion on what types of merchandise
would be marketed (t-shirts, caps, stubby holders,
stickers etc) and where would it be sold
(demonstrations, competitions, via the newsletter,
etc) a motion was passed that the Committee be
given permission to investigate and introduce AFA
merchandise.
New 2000 Point Title
After a ballot of members it was accepted that
there be a 2000 point award title and that it be
called "Australian Flyball Champion (AFC)" - this
was an almost unanimous choice.
Height Cards
After discussion with those present regarding
different ways in which height cards are issued in
various clubs/countries etc, the President asked
the question if members wanted height cards
introduced. The result was a resounding yes. A
motion was moved that height cards be introduced
and that the new committee investigate the best
system by which the cards will run.
Treasurer's Report
The balance at bank as at 30 June 1998 was
$1819.33. A copy of the auditor's report is
attached for your information.
AFA Committee for 1998/99
All committee positions were declared vacant and
the 1998/99 committee was voted in. The
1998/99 AFA Committee is as follows:
President: Steve Pitt
Vice President: Justine Figg
Secretary: Raelene Gibbs
Treasurer: Vicki Kennelly
Public Officer: Marc Harris
Committee: Nerida Winters
Eric Van Zuyden
Scott Mann
Jennifer Nipperess
Lorelle King
Raymond Williams
Regional Reps: Rodney Gooch (Victoria)
John Gaylor (South Aust)
We welcome all those new faces onto the
Committee and look forward to an exciting year of
promoting Flyball to all in the community.
We would like to sincerely thank two of our active
members of the Committee who have
unfortunately had other commitments and were not
able to stand this year - Alison McCann and
Tamara Brown. Thank you both for your real
contribution over the past twelve months.
3
We all wish Tamara Brown the very best for her
move to Melbourne. It was mentioned at the
meeting that as Tamara is following one of our
previous Committee members, Dee Scott, into the
same company, we will need to charge a
recruitment fee! Well it is all good news for the
Melbourne Clubs and sad for Power Paws because
Tamara also owns a reliable, speedy Flyball Dog -
Claudia.
Novice Competition
Due to injuries occurring in the Novice
Competition, the AFA suggests that Novice be run
off-lead with the handlers running beside the dog.
Reasonable control must be able to maintained for
the dog to be able to be run off-lead. This will also
prevent the lead knocking over jumps on top of
dogs. This action is purely for safety reasons for
both dogs and handlers.
The Winter Classic
- Sponsored by PAL Professional -
Saturday 29 August was an absolutely beautiful
day. With the competition situated on the
foreshore of Lake Burley Griffin overlooking
Parliament Houses (old and new) and watching a
group of early morning balloonists taking off - it
was magic.
The competition was opened by the local Chief
Minister - Kate Carnell and the day started with an
unofficial record of 21.05 seconds by the Hoon
Squad.
There were a total of 14 teams racing making it a
very full and busy competition. As the day whisked
away so quickly, there was a change in the running
pattern. It was to be a round robin followed by a
single elimination, but later in the afternoon the
Team Captains were called together and it was
agreed to only run the round robin.
The results of the day are as follows:
Open Division 1
1st - Hoon Squad (BT=21.05sec)
2nd - Power Paws Red (BT=21.78sec)
3rd - Croydon Rockets (BT= 23.19sec)
4th - Eurogliders (BT = 24.41sec)
Open Division 2
1st - Queanbeyan Border Patrol (BT=25.55sec)
2nd - Flying Dog Squad (BT=27.58sec)
3rd - Tug-O-Wars (BT=31.74sec)
4th - Power Paws Minis (BT=35.40sec)
Novice
1st - Hot Dogs
2nd - Scamperin ScallyWags
3rd - Power Paws Lightning
There was a sausage sizzle, raffle tickets, and an
RSPCA donation dog present on the day. All
proceeds were donated to the RSPCA for all those
unlucky dogs who don't live like ours. It was a very
successful day with approximately $750 being
donated to the RSPCA.
Sincere thanks to PAL Professional for their
support for this event.
The AFA would also like to thank Scott Mann and
Nicole Beasley for their donation of $40 from the
sale of their fantastic new Flyball T-Shirts.
Sporting a humorous Flyball print and the caption
"Flyball - it takes a lot of Balls", they were a hit on
the day. If you would like to purchase one of these
shirts or find out more about them please contact
Scott Mann on 03 9541 8982 (ah).
Lonnie Olson Registration
The Lonnie Olson Clinics still have some places
available. Please remember that there are only 40
places for people with dogs at each of the
Canberra and Melbourne Camps. Fence sitters
are unlimited.
If you have not already sent in your registration,
please do so quickly as we will soon be opening up
the places to non-AFA members and the local dog
clubs - DON'T MISS OUT!
Out and About
RNSWCC Companion Animal Day
On Saturday 5 September 1998 a group of
dedicated Flyballers made the trip to Centennial
Park in Sydney to do some demonstrations at the
Royal NSW Canine Council Companion Animal
Day - to support and inform about the new
Companion Animal Act in force in New South
Wales.
Apart from the rather drizzly weather (it must have
been a disappointment for the organisers), it was a
good day with spirits remaining high throughout. A
shame that the weather drove off a lot of the
spectators however the opportunity to speak to
Wes Stacey of the RNSWCC was not to be missed
and was very informative. There were also some
interesting stalls, breed information and
demonstrations.
Verifying Times
To post an Australian record time from an AFA
Sanctioned Competition it is necessary to have
electronic timing and supply a video of the event
with the steward showing the time sheet which
shows which heat is about to race and a view of
4
the time at the completion of the race from the
electronic timing gear. It is necessary to have all
the dogs racing in picture at all times and all crossovers
must be visible. There must be the time and
date displayed on the video.
Advertise Your Next Event
Do you have an upcoming Flyball event
happening? It can be in the near future or further
down the track. Well the AFA would love to hear
what is happening in your area and to add it to our
calendar. We are aiming to have a complete
calendar of Flyball Competitions and
Demonstrations for the whole year (and the
following year). This will allow people to allocate
their time for your event and in the case of
interstate travellers - put in for their holidays from
work.
Please forward your information to the Editor, The
Flying Times at the AFA .
Editor: Raelene Gibbs
Ph: 02 6236 3033 (ah)
Email: [email protected]
Calendar of Events 1998
October
3 The 1998 PAL Victorian Flyball Challenge
Keilor Dog Obedience Training Centre
AJ Davis Reserve, Fullarton Rd, Niddrie
Contact: Rodney Gooch 0411 486649
AFA Sanctioned Event
25 Bendigo Show Flyball Competition
Bendigo Showgrounds Dog Area
Contact: June Hunter 03 9366 3364
AFA Sanctioned Event
30 Lonnie Olson Camp Canberra (Day 1of2)
Flyball Master Trainer Extraordinaire
Contact: Raelene Gibbs 02 6236 3033
November
1 Lonnie Olson Camp Canberra (Day 2of2)
Flyball Master Trainer Extraordinaire
Contact: Raelene Gibbs 02 6236 3033
7&8 Lonnie Olson Camp Melbourne
Flyball Master Trainer Extraordinaire
Contact: Rodney Gooch 0411 486649
November 98 (contd)
14 Queanbeyan Flyball Competition
Queanbeyan Showground
Contact: Steve Pitt 02 6299 4908
AFA Sanctioned Event
1999
February
TBA Canberra Royal Flyball Competition
April
TBA Farm Sunday
Sydney Royal Easter Show
May
TBA ACT Companion Dog Club
Flyball Competition
Narrabundah, ACT
June
12/13 Border Challenge Flyball Competition
Albury Dog Club Grounds
Contact: June Hunter 03 9366 3364
AFA Sanctioned Event
Competition Dates TBA
TBA Mooroolbark Festival
TBA National Australian Flyball
Championships (NAFC)
Please note that all competitors at an AFA
Sanctioned event must be financial members of
the AFA Inc.
The 1998 PAL Victorian Flyball Challenge
Once again Keilor are providing their magnificent
hospitality when hosting the AFA sanctioned 1998
PAL Victorian Flyball Challenge on Saturday 3
October 1998 — an especially good weekend for
interstate teams as it is a long weekend.
The competition will be held at AJ Davis Reserve on
Fullarton Road, Niddrie. Open Division 1, Open
Division 2 and Novice division will feature on the day.
For more information or an entry form, please
contact Rodney Gooch on 0411 486649 or by
email on [email protected]
Bendigo Agricultural Society Inaugural "PAL"
Flyball Spectacular - Oct 25
Keilor are busy out promoting the wonderful sport
of Flyball and have announced their 2nd
competition for the year ... Bendigo Agricultural
Society Inaugural "PAL" Flyball Spectacular - an
AFA Sanctioned event.
The event will take place on Sunday 25 October
1998 at the Bendigo Showgrounds Dog Area.
There are two divisions being run - Novice and
Open. Check in will commence at 11.00 am with
Racing to start at 12 noon.
Proudly sponsored by the Bendigo Agricultural
Society and Uncle Ben's of Australia - PAL.
5
If you would like to know more about the Bendigo
event or require an entry form please contact
June Hunter on 03 9366 3364.
Queanbeyan Flyball Competition -
14 November 1998
The Queanbeyan Flyball Competition will
be held at the Queanbeyan Show on
Saturday 14 November 1998.
There will be three divisions - Open 1, Open
2 and Novice. This is sure to be a great, fun
day. Get your teams together and start
preparing!
For an entry form or more information about
this competition please contact Steve Pitt
on 02 6299 4908.
The Border Challenge 1999
Albury will be the home of the Border Challenge to
take place on the Queen's Birthday long weekend
in June 1999 (12 and 13 June). A great venue for
interstate teams to meet "half-way" and a weekend
long enough to enjoy a bit of a break as well.
There will be two days of competition (Saturday
and Sunday) and there is talk of a bit of a party on
the Sunday night. If you are interested in coming
along to this event it is suggested that you book
early (like nowish) as although there is a lot of dog
friendly accommodation in Albury, there will also
be the "Winery Walkabout" on that weekend (I
know what we can all do on Monday! But who has
to drive?)
All enquiries should be directed to June Hunter on
03 9366 3364 (ah).
Pedigree Names on Titles
If you wish for your dog's title certificate to bear
his/her Pedigree Prefix, please ensure that when
you complete the Title Redemption Form that you
write your dog's complete name into the space
provided.
I
It is asked that you write clearly on the form as it is
from this that your dog's name is taken for his/her
award.
Thanks Reg
The AFA would like to sincerely thank Reg Dwyer
for looking after the Flyball Homepage and the
Flyball Mailing List. He has spent a lot of time
promoting the great sport of Flyball.
Your interest and support has been greatly
appreciated.
For subscription to the Internet Australian Flyball
mailing list, please contact Reg Dwyer on e-mail
address: [email protected]
Contacts
The postal address for the AFA is PO Box 1442,
Queanbeyan NSW 2620.
E-mail via Steve Pitt on e-mail address:
[email protected]
If the AFA can be of help, please contact us
by mail or phone Steve Pitt, President on
02 6299 4908 or mobile 0414 795 589.
Flyball Books
"Flyball Racing - The Dog Sport for Everyone"
by Lonnie Olson
One of the best Flyball books available. This book
explains Flyball from equipment and how to make
it, through training, preparation and competition.
An easy to read book with loads of explanatory
photographs.
Contact Boldacious Books on 02 6299 6330.
'Flyball Training from Start to Finish' by
Jaqueline Parkin
Ms Parkin takes you through all necessary lessons
to make your dog a Flyball champion.
'Flying High' by Joan Payne.
Covers procedures for developing skills, problem
solving techniques, equipment selection and lots
more. A must for beginners, teachers and
competitors alike.
These two books are available from Paws in Print
on 03 9795 9158.