Monty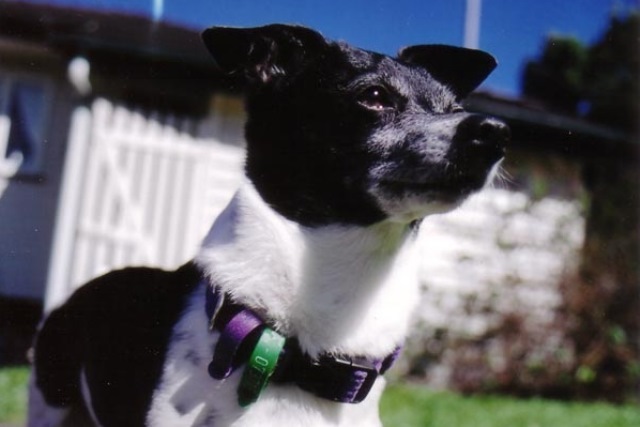 Author: Colleen Mcarthur
Monty's Story
Mon 25 Sep 2017
Just 4 months short of his 20th birthday, our beautiful, furry family member Monty has come to the end of his wonderfully long and amazing life. On Thursday 3rd August, 2017, we decided to farewell him after making the most difficult decision as a partnership in our 24 years.
So it's a good time to reflect on a life well lived, as he has been a huge part, both in time and importance, to our family as it has grown.
20 years ago I really started to push for a puppy. I was sufficiently independent from Mum and Dad for a while at this stage. Mark and I both lived separately at the time and we were looking around for Mini Fox Terriers, as I had grown up with Sarah the Mini Foxie as our family for 13 years. A little dog would suit my rental situation and finances. Mark found Monty, a Mini Foxie with ¼ Chihuahua, in Beaudesert, and rang me after going down to look at the puppies while I was working. He wasn't prepared for all the questions after he told me the puppies weren't old enough yet and he hadn't come home with one. I was so disappointed. But when I came home to find he'd left a box with a blanket in the driveway, I walked in with a knowing look on my face and Mark had the tiny little black and white ball of cuteness hidden next to him on the lounge. So he was my 23rd birthday present. Because I didn't have a fenced yard and lived on the reasonably busy thoroughfare that was Chapel Hill Rd, Monty spent most of his days in my office with me at Uni. I was too scared something would happen to him at home like chew through a power cord and electrocute himself. So I had a contingent of friends who were sharing my office, and a couple more lifelong friends who were working in the Anatomy Dept, to raise Monty and look after him while I was in the lab. No-one ever came down to our office there because it was one level below the cadavers and it was really just a couple of offices with a few PhD students' desks. The best thing was that it had a back door so I could sneak Monty in and out each day without having to go through main reception on level 4. Tee hee.
Not long after that, my lease was kind to me and Mark and I moved in together with Nicole to Kenmore in a house with a fenced yard that would accept our little friend and where he didn't have to spend his days in an office at Uni! I was volunteering at the RSPCA at the time I got Monty, and knew there was an obedience school there, so enrolled Monty as soon as humanly possible. Unfortunately those early classes probably contributed to his larger than life presence, as in those days, we used to put all of the puppies in the class off lead in a little shed where we had the lessons, for 'puppy play'. Monty was terrified of all of the giant puppies who wanted to sniff, play and bowl him over, so he learnt very quickly to have a very wide personal space for other dogs, and a very strong reputation for reacting to any dog who dared to enter that space. Only a select few girls were allowed in, like Lulu, Liz's dog. He would stand beautifully tall for Lulu, and always had time for her (and any other cute little fluffy girls for that matter!). I loved going to these classes, so decided that a part time job outside tutoring at Uni could be managed, as a dog obedience instructor. During my time there teaching puppy and novice classes and doing classes with Monty in obedience and agility, Rosalynd Taber started a Flyball class. This was a dog sport that started in the USA and was starting to make a mark in Australia. There were competitions in NSW and Vic, but not yet in Qld, and with a few teams starting up in our state, Ros decided to give it a go at our school. Rachael and Ros both taught the class and the original team was largely made up of instructors and their dogs. We were a welcome introduction as a height dog. We were part of the very first official AFA (Australian Flyball Association) competition in Qld in April 2000, and Monty has far outlived any of the dogs in that team! We always lamented when one of our 'originals' passed on to the Rainbow Bridge. Well, to my Flyball friends that I have made over the years (Liz, Ros, Rachael, Jan, Nealle, Jodie, Tony, Nicole, Kerenza, Rod, Kelly, ), we say goodbye our last little teammate today. Known to those who were around during Monty's racing days, as the Pocket Rocket, appropriately named and commentated by Steve Pitt. His main reputation was for his yelling at me at the start line, instead of just bloody running, Phil used to have to be my wing man at times and yell "GO!!", as the more I yelled it, the more he would bark at me! Flyball brought us a new family of friends and we would often go camping at Neurum Creek together – there were usually more dogs than people. They were wonderful memories.
Nicole, Mark and I moved to Newmarket after 18 months at Kenmore, and here we had a huge yard for Monty. His time as a one child dog here was relatively short-lived, as we decided to look after a 4 year old Beagle, Sydney, while a friend went to live in the UK for 12 months (but Sydney stayed with us for the rest of her life). This was a very rocky start, with 2 trips to the emergency vet over spats. Sydney loved Monty, though Monty was not very impressed that he had to share Mum and Dad with this upstart (who was only a month younger than Monty). But they learnt to get along – they played a lot after about 3 months when Monty finally accepted he had to live with this mutt. One of the best memories Mark and I had was out first camping trip to Neurum Creek, before we started going with the Flyballers. It was dark and raining and the 2 dogs looked on in the car with their feet on the dashboard, like, "We're not sleeping out there are we?".
Monty has from early on loved being up high, like he needs to make up for his size. Favourite places from our memory…..the back of the couch was his daily sleeping place, or a place from which to greet guests and family at a more civilized height; our shoulders whilst driving the car (whoops!) which other drivers thought was pretty hilarious; the dog walk or A-frame in Agility (he was supposed to run up and down the very high A-frame, but would always pause at the top to view his world). He also loved to sleep in a proper human bed. And this was thrust upon anyone who had to look after him if we were away. Keith was his main carer, and we would look after Max the cat when Keith was away. Poor Keith never got much sleep while Monty was there as Max would sleep under Keith's covers, and sometimes, an unsuspecting Monty would jump onto the bed, and right onto Max, causing what Keith called World War 3. Monty and Max otherwise had a very accepting relationship with each other, Max having put Monty in his place from an early age.
After our move to Warner post-marriage, Mark and I were ready to start a human family and much to Monty's distaste, we introduced Lelia when he was 11years old, already retired from Flyball, and already considered an old dog (that seems kind of funny now). He would lay on the breastfeeding pillow while I fed Lil, just to show her he was still the number 1 child in this house (he hoped!). But when we were camping a very young Lelia tried to walk Monty, and Monty instinctively knew that he had to be gentle with this kid. He didn't pull the lead at all, and walked very slowly, at her pace (albeit with a look of absolute disgrace on his face, that we had lowered him to this level of humiliation). By the time Christian came along, he was either sufficiently old and without care, or just fed up with us adding family members to the pack. He was quick to put them in their place with a scary snap but we were rightly confident that it was all bark and no bite, and the kids just didn't even react – just said "Oh Monty!" He came to love the kids and I noted that once when I returned home from Mum's at Hervey Bay, having left the kids behind, he was standing for ages at the garage door waiting for his pats, but disappointingly, it was just me! To the very end, he has showed up every night waiting for dinner and every morning at 7.50am to wait for the kids to give him a biscuit. And we never let him rest from introducing new family members. After saying goodbye to Sydney 3 years ago, we waited until May this year to bring Remy the lab into the house. Whilst not impressed, he has let her in with grace like he knows that this is the dog that must take over watching over his family. He's just had enough of being in pain.
He has been a part of our greater family, for most of even our nieces and nephews lives, and obviously our kids don't know a house without Monty. So many memories, there are just too many to type and I have already written war and peace. Our big family are all sad to see Monty go and the end of an era particularly for my overly animal-loving siblings and parents! Any pet my brother or sisters have is much loved by all of us and accepted as a proper member of the Veitch clan.
Monty, now you can run free, chase those birds and cats, jump up on the back of that lounge, and run after that ball without pain. We will miss you terribly but you have made a huge imprint on our lives and hearts. Rest in peace little Monsta. We love you forever.